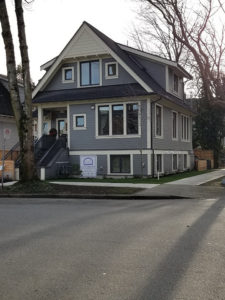 ABOUT
Laurel and 17th
This classic Vancouver heritage home was beautifully redesigned by local Vancouver Kuno Architecture. Architect Jane Vorbrodt developed a thoughtfully accessible triplex, construction managed by Pantheon Developments and completed in winter 2019. Fully wheelchair accessible and located directly within the crossroads of Vancouver's tree lined Shaughnessy, Fairview and South Cambie neighbourhoods, this residence is mere blocks from VGH, GF Strong, and the BCCA.
STAY A WHILE
The third floor short term rental unit comes furnished.
Taking advantage of natural light with plenty of windows and skylights throughout, this upstairs suite features a spacious greatroom kitchen, two bedrooms with wide sliding door entries, an aesthetically tiled bathroom with wheel in multi use shower set up, and ensuite washer & dryer.